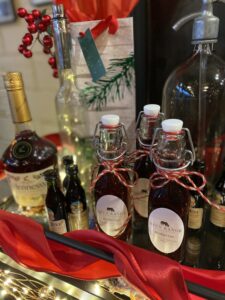 December is an exciting month at Open Range!
We are offering 25% off our entire Wine List, for both dine-in & to-go.
Our Pantry is stocked with seasonings, snacks, and libations; perfect for gifting, or savoring in the comfort of your home. Looking for a quick gift? Pick up a pre-batched Old Fashioned or Negroni, ready to pour over ice and enjoy.
We are now offering weekly meal kits for pick-up at your convenience. Check out our website, Instagram, or Facebook every week for the current offering. Our meal kits are comforting, affordable, quick and easy.
We are launching our Sunday Supper Club this month on December 13th. Look out for a unique monthly offering from Chef Bobby Thoits! This month, in the effort to continue social distancing, we will be offering this meal to-go.
Bobby is crafting a comforting Vietnamese dinner, complete with Fresh Rolls, Cucumber Salad, Pho, and a Vietnamese inspired dessert.
$30/person. Limited quantities available, so place your order now! Pick-up will be Sunday, December 13th from 5-6pm. Email emilyk@openrangemt.com with your order.
Thank you for your continued support of Open Range. We are so grateful for our community!